Stop Dressing Like a Boy, Dress Like a Grown-Up
Many men approach their casual style from the wrong angle; they aim to look youthful.
But if you want to look well-dressed, you should always aim to look mature.
Because maturity is an attractive quality in men. Maturity, after all, is what separates the men from the boys. Maturity shows masculinity and commands respect, and it's a quality you want people to see in you.
That doesn't mean you have to dress like your dad. It doesn't mean you have to dress old. It just means you have to avoid portraying yourself as a teenager… Unless you actually are a teenager.
Just to be clear, that means…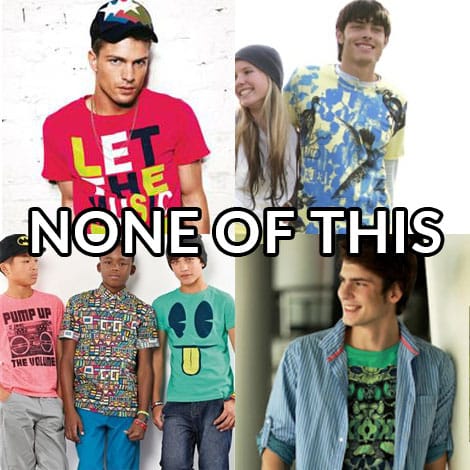 You want to dress like a grown up. Everything overly flashy like the items pictured here simply become inappropriate past  certain age. Funny or cartoony tees are a definite no-go. Wearing a funny tee is basically like being the guy that makes the same joke over and over and over. It might be funny the first time you see the t-shirt, but t gets old fast. Also, avoid anything with slogans.
You want to avoid looking like someone who hasn't grown up yet — someone who's stuck in his past.
You want to stop looking like a boy, and dress like a man.
Don't worry though, I'll give you some more tips on how to do so. Starting with…
 Give Up the Graphic Tees for a More Mature Look
The first thing you should do to shed your boyish look is giving up your graphic Tees.
I know you love them. I once did too. In fact, I wore them non-stop.
But you want to stop wearing them. You have so many better options.
Despite popular belief, they don't make you look funny, edgy or original. In fact, because every other guy is sporting a graphic tee too, you'll just blend into the crowd.
Plus, people associate them with guys who refuse to grow up. (Remember tip #1? You don't want that.)
Just look at the movies. You'll never see a tough, masculine action hero or a suave rom-com heartthrob wearing a a graphic tee. The only time you'll see a graphic tee is when the character is either a man-child, an actual child, or a slacker.